It's the moment you've been waiting for—the 2015.GIFYS.
What are the .GIFYS, you might ask? They are, obviously, an awards show for the best animated GIFs on the Internet—as nominated by a panel of GIF experts, insofar as such people exist—and ultimately decided by you, the public.
Crispin Porter + Bogusky in Los Angeles is the organizer. And now, in the competition's second year, GIF search engine Giphy has joined as co-host.
There are awards for animal GIFs, and cat GIFs—a separate category, of course—and art, and music, and politics, and film and television. There are awards for GIFs that will hypnotize you ("Can't Look Away"), and make you nostalgic ("Throwback"), and just kind of creep you out ("Weird").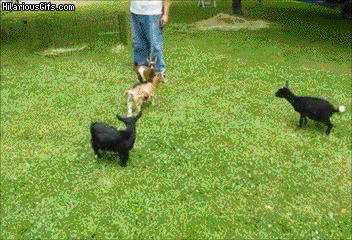 Some of the 55 nominees are excellent, like baby goats doing backflips off other baby goats, and a Roy Lichtenstein cartoon man swiping the face of a Roy Lichtenstein cartoon woman like an iPad, and a Nick Offerman head bouncing through a field gobbling bacon.
The judges who picked the nominees include writers and visual artists for news sites like Mashable, The Huffington Post, New York magazine, and, naturally, BuzzFeed, as well as execs from companies like Daily Motion and Reddit. Internet-famous cat Lil Bub is also somehow a judge, which seems perplexing, given cats thankfully don't have thumbs.




If you like wasting your time looking at GIFs, it's worth a gander at the full collection. Voting ends Feb. 22, and your voice could help decide which mini works of circular clip art earn the highly questionable honor of becoming "permanent fixtures in an Internet hall of fame."
But you also know that when an ad agency creates, as a means of self-promotion, a crowdsourced competition celebrating snippets of self-referential Web culture, that the awards show glut truly has imploded into a black hole.